Smart DX is the fastest way to take notes during a recording session or filming a spot that go right into your editing software.
While working as an assistant editor, I would sit at the keyboard and type out every line that an actor would say. Even with typing super fast, the whole process would take 3-4 times the actual length of the recording session. While doing this for several days during a busy season, I had an idea that would escalate the speed of breaking down dialogue or marking takes as others may know it as.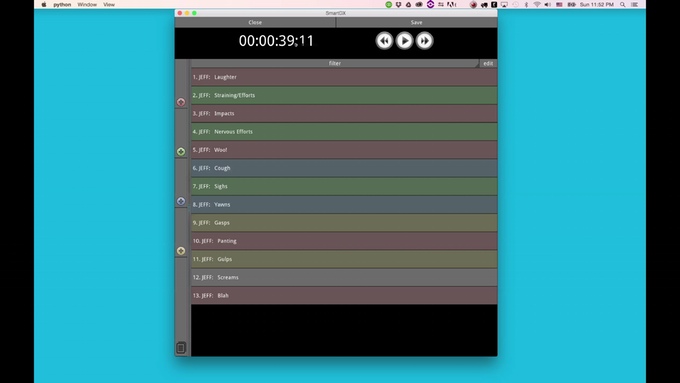 So I grabbed a sample script from Final Draft in PDF form and have been working on creating a program that inputs your script (with line numbers), separates it line by line and allows you to click on the line being read. As you click, it creates a marker for Avid, Final Cut Pro or Adobe Premiere.
That way when you get back to your editing software, you only need to import your markers, double check any mistakes you might have made on the fly and get right to editing that material. I've found that this takes the breaking down process from 3-4 times the length of a recording session to .5-2 times (just for double checking and extreme dialogue treatment like marking each cough, breath, sigh, etc that any actors might make.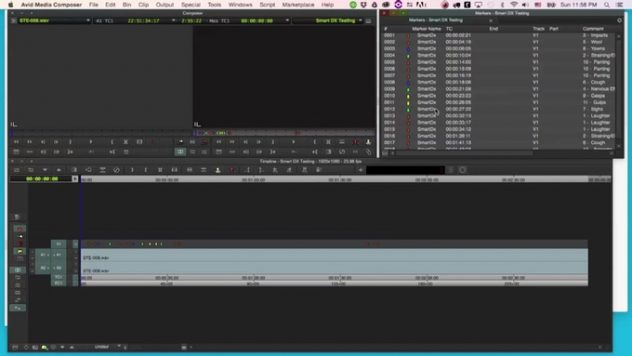 I've added a couple different colors of markers that go back to the last marker hit and change the color. Automatically the color is red, but if you click yellow (we use this for an editors select/circle take) or blue (director select/circle), Smart DX will mark those takes for you.
This isn't just for recording sessions though. If you are any videographer or one man shop, imagine you are shooting a client for a corporate project and you have an audio recorder running non stop. Import your script into Smart DX and mark your takes as you go along. Process your footage and import the markers to your clip or sequence. It's the closest thing to having a script supervisor on set and will enable you to "circle takes" by choosing marker colors on set.
In late 2015, I raised enough money through a KickStarter campaign to bring on Abo Biglarpour, formerly of the FLIX team at The Foundry, to help perfect Smart DX. We are currently working on a better version as the software is still in testing.
If you are interested in purchasing or licensing SmartDX, please contact us below-