After getting a lot of hits on my post titles "I will judge you be your sequence," I decided to dip into more of my editing ideology. I've thought about what topic it should be for a while and came up with the "L" cut.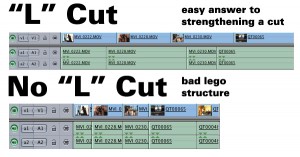 The "L" cut is an edit I use to distinguish the level of an editor I am taking over for or mentoring (I work with a group of students from BYU from time to time as a mentor or internship provider). It is also one of the easiest ways to make your scene look better. More often than not I take a look at a student's cut and see a timeline of the stacked Legos. Video, Audio, Audio. Video, Audio, Audio. All like three blocks have been stacked on top of each other over and over. And we all know how that works in a Lego world. No bricks are attached to each other and your creation not only looks lame, but it has no structure.
A few years ago I had the great opportunity to be taught by Steve Rivkin (recently nominated for his editing on Avatar, congrats Steve) and Craig Wood while at the Disney College program at Walt Disney Pictures. I spent three months there. While I did spend some time on different aspects of post production on Enchanted, Underdog and Santa Clause 3, I spent close to three months solely work with the editorial crew of Pirates of the Caribbean: At World's End as an editorial intern.