After getting a lot of hits on my post titles "I will judge you be your sequence," I decided to dip into more of my editing ideology. I've thought about what topic it should be for a while and came up with the "L" cut.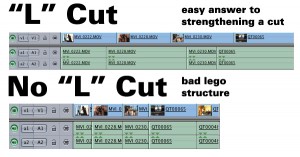 The "L" cut is an edit I use to distinguish the level of an editor I am taking over for or mentoring (I work with a group of students from BYU from time to time as a mentor or internship provider). It is also one of the easiest ways to make your scene look better. More often than not I take a look at a student's cut and see a timeline of the stacked Legos. Video, Audio, Audio. Video, Audio, Audio. All like three blocks have been stacked on top of each other over and over. And we all know how that works in a Lego world. No bricks are attached to each other and your creation not only looks lame, but it has no structure.
A few years ago I had the great opportunity to be taught by Steve Rivkin (recently nominated for his editing on Avatar, congrats Steve) and Craig Wood while at the Disney College program at Walt Disney Pictures. I spent three months there. While I did spend some time on different aspects of post production on Enchanted, Underdog and Santa Clause 3, I spent close to three months solely work with the editorial crew of Pirates of the Caribbean: At World's End as an editorial intern.
One day I sat in with Steve as he was (I would call this a spoiler alert, but in most cases if you haven't seen the movie by now it's because you don't care enough to) editing the scene where Elizabeth escapes Davy Jone's ship, The Flying Dutchmen, and Commodore Norrington is killed by the senile Bootstrap Bill.
In past interning experiences, I just sat in the room same room as the editor, on the comfortable couch, trying not to fall asleep as the editor worked his magic. At times it was hard to take note of what the editor was doing other than replaying the same thing over and over. However, Steve provided me with a great learning experience. He showed me this particular scene two different ways.
The sequence is shown (off of my memory anyway) in the following order:
Elizabeth says goodbye,

Norrington says hurry,

Bootstrap Bill startles them,

Elizabeth makes her getaway,

Boostrap  kills Norrington.
Steve showed me his first edit. This way, between points 2 and 3, he had used an obvious "L" cut. You could tell because you heard Bootstrap Bill yell to startle Norrington and Elizabeth before you saw Bootstrap. The second way he showed the me the sequence was without an "L" cut. We saw Bootstrap see that Norrington was talking to Elizabeth and then he yells at them.
"Which was was better?" Steve asked, as if I was really any sort of authority to make a decision.
"The first cut." I answered. I was confident, but nervous because I felt like Steve was giving me some sort of initial test to see how interested I was in what he was doing.
"Why?"
Coming off of reading "In the Blink of an Eye" a year or two earlier, I gave the simplest answer "There is more emotion in that edit."
"Right." Steve confirmed.
It was a better cut. The lesson here is not that "L" cuts always make a scene more emotional or they aren't always the answer, but it's a simple edit we can use to beautify our edits, hide hard edits without defaulting to a transition or "band-aid dissolve."
However far along your film might be in the edit bay, look to the "L" cut when in doubt. It's saved us all from a bad edit and added a comedic, horrifying or dramatic feeling when we've looked to it for an answer.
Do you have a good example of an "L" cut you've used in a cut? Want to share a link? Leave a comment to show some great examples to us.
*** Note: There is an L Cut and a J Cut. An L Cut is where the video comes in on the next clip before the audio does and the J clip is vice versa. Thanks to Art G. for reminding to clarify. The illustration up top shows both examples. I more often hear L Cut from people and forgot to mention the difference.