So I tried it. I've read all about it on people's twitter accounts, forums, blogs, etc, but I had never tried it or seen anything actually do it. In theory it should all work fine right?
Here is what I did:
Take a clip from your project, export an aiff of the clip. You will probably be working in Avid just because you are going to take it back into Avid to use the Script sync feature. In this case I was editing a non-scripted interview of NHL Analyst Brian Engblom for HockeyPlayer.com. I took a clip that was close to a minute in length just for this test.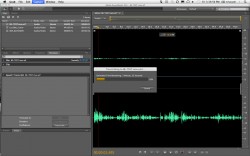 Pull that clip into Soundbooth. Double click on it and assign it to be transcribed. I would use the high quality transcription setting in this case. Wait patiently for the transcription. This is the longest part of the process. I would also say this is the only part of the process that will determine if this works out for you. I also tested the same process with a clip from the CHOC night video I did with Suzanne Broughton over at OC Family and the test didn't work out nearly as well. The difference being that Suzanne was recorded with a shotgun mic, outside, during a windy Anaheim day. Brian Engblom was recorded with a "lav" mic, inside with no other sounds to distract.
The transcription of Brian's clip was about 4 minutes. I copied the transcription and then put it into Pages. I evenly spaced out the paragraphs in Pages the way I wanted them and then exported the file as a .txt.
I opened up Avid again, imported the new script and assigned that clip to the script. The process was excellent. It didn't take more than 5 minutes to get that taken care of, but again it was only a 1 minute file. Here is how it looked at the end in Avid.
Not too shabby.