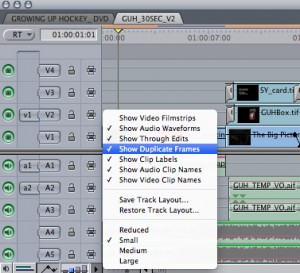 I was in the middle of getting a cut ready for a client and realized I had not implemented the last feedback she had given me. Oops.
I had sent her 8 min worth of selects and takes I liked and she sent me notes on the ones she didn't really like. Forgetting about those notes, I felt like I was in the rhythm of things and made another cut. I sent it on to her and realized while sending the e-mail I had not made those changes. Oops again.
I quickly wrote her an e-mail reminding her that I would fix those cuts quickly, taking them out asap. I did it with duplicate frames on Final Cut Pro.
I went into my sequence of selects and cut out the shots that she had given me the timecode for. I placed those clips in the sequence I had mistakingly sent. Made sure that the duplicate frames feature was selected (see image) and then took out the shot that were colored with the duplicate frames tool.
Sounds simple enough, right? Anyone else have another idea (other than the obvious do it right the first time) of how you could fix this without recutting from step one?